Medical Video
Our high-quality animations can be tailored to your needs to present medical content to your audience in an engaging and easy-to-understand way. Our healthcare video production services are exactly what the doctor ordered to take your video marketing efforts to the next level!
Benefits That You Can Expect From Animated Medical Videos
Lots of lives are saved every day thanks to relevant and factual medical information. It is crucial that you make your professional healthcare knowledge available to your target audience in a compelling and understandable way. With animation, you can help people visualize what happens inside the body at a cellular level. Explain procedures, recovery, and preparation processes using a communication method with a high engagement and efficiency ratio - a healthcare video production.

Animated medical videos can be used as part of internal and external communication strategies for healthcare companies. External content can illustrate complex solutions and medical processes or advertise the product and its benefits. As for internal communication, video content explaining health and safety procedures or new internal regulations might be just what you need to improve the care and services provided by your healthcare organization.
At Pigeon Studio, we take great pride in our medical video production process. Take a closer look at some benefits you can expect from cooperation with our company.

Build trust and increase awareness around the medical topic you want to explain.
Healthcare videos should explain topics sensitively and accurately - matters that concern your viewers' health and well-being should leave no room for interpretation. The goal is for the viewer to find out about your message and fully understand what your healthcare product or service does.

Healthcare is a very dynamic industry, and your video content should be the same.
New technologies are developed every year, and it might be hard for patients, end consumers, and even medical industry experts to keep up. Pigeon Studio recommends using a simple style for health and medical videos. Everyone should get the same idea, there is no space for abstraction or distortion where health is at stake.

Choose the perfect type of healthcare video to reach your video marketing goals.
Pigeon Studio can offer several types of medical and health videos, including 3D animation, explainer videos, training videos, and educational series. We will adjust the type of video to your healthcare video marketing campaign needs and bring your message and vision to the screen in a way that will captivate your audience!
Who Can Benefit From Investing in Healthcare Video Production?
- Hospitals and clinics,
- Doctors and surgeons,
- Pharmaceutical companies and drug manufacturers,
- Medical college professors and students,
- Biotech companies,
- Medical equipment manufacturers,
- Healthcare startups.
Something just right for your business
Need one already?
If you want to learn more about our medical videos, contact us directly. We'll be more than happy to answer all of your questions and tell you more about our healthcare video production services!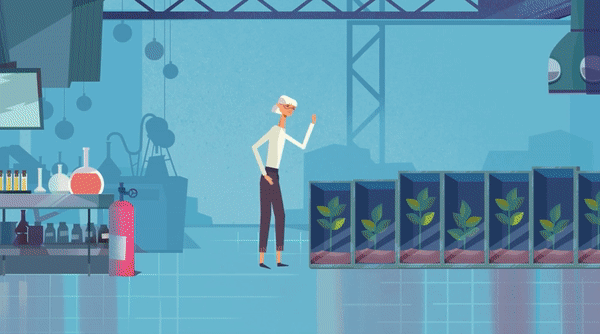 The Phases of Medical Video Production
Pigeon Studio has already established processes to deliver high-quality healthcare animations that will help increase your brand awareness and deliver medical information to your target audience. Our medical video production company typically creates animation in a step-by-step process:

Pre-production:
1. Kick-off call - we'll talk about your company's goals and the message you want to spread with our animation.
2. Writing the script.
3. Creating the storyboard.

Production:
1. The creation of illustrations, which will be the base for the entire video for the healthcare industry.
2. Producing animation and smooth transition.

Post-production:
1. Sound - making sure your story is heard loud and clear.
2. Final optimization when it comes to both animation and sound.

Healthcare Video Production - Frequently Asked Questions
How Long Does an Animated Medical Video Production Take?

A medical animation produced by Pigeon Studio of around 60–90 seconds takes approximately between 6 and 10 weeks to complete, depending on the complexity (2D or 3D, the number of details) and length of the video. If you would like to know more about the stages of our video production, click here.

How Much Does a Healthcare Video Cost?

There is no simple answer here because the cost very much depends on the animation you want to produce. The two main factors that can affect the price of a healthcare animation are the video length and its style.

To learn more about our budgeting for your animation project, take a look at our financial guide. As an experienced medical video production company, we can deliver high-quality videos within your budget. Contact us, and let's talk about your options!