Back
The Animation Process - Step by Step Guide
Process
Gosia Kucharska
23.09.2022
Animation is an extremely versatile tool - entrepreneurs, business owners, and video marketing agencies can use it to steller outcomes. Animated clips can help you communicate your brand's message clearly - no matter how complex your product or service is, an animated video explainer or a whiteboard animation clip can help convey your unique selling proposition to potential clients.
Sadly, not many companies genuinely leverage animations in their campaigns, and this is in large part due to the lack of knowledge and misconceptions about the animation process. Cliches like, "animations take too long to produce, animations are too expensive, and getting animations right is difficult.", but don't have a basis in reality.
That's why, in this article, we'll go over the animation process step by step - if you want to truly learn what it takes to create animation, you need to read on!
#1 Researching
Before you begin, you need to research and understand some key pieces of information about the project you're working on: What's the purpose of the animation? Who is the audience? Are there any specific requirements?
At Pigeon Studio, our animation production company, we'll use this stage to familiarize ourselves with the client's animation project, ask key questions, and make sure we're on the same page. If the animation is an in-house project, your job is going to be easier, but you still need to ask those questions and make sure you answer them properly.
At this stage, it is important to involve most of the team. Not only do all the project's stakeholders need to be on the same page, but the team creating the animation needs to be on the same page - the team's cohesiveness and synergy are important for success.
#2 Defining the Project's Scope
What's the central purpose of your project? What message do you want the animation to convey? What are the timetables and deadlines? How much are you willing to spend? How do ROI prospects look? These are the key questions you need to be able to answer to properly assess the scope of the project.
The key to success in any project is starting with a strong foundation to build off of — Without properly defining and elucidating the scope of the project, the stakeholders, the budget, and more, you'll run into a lot of problems later on. Missing deadlines, unappealing animations, and budget overruns are all symptoms of failures during this phase.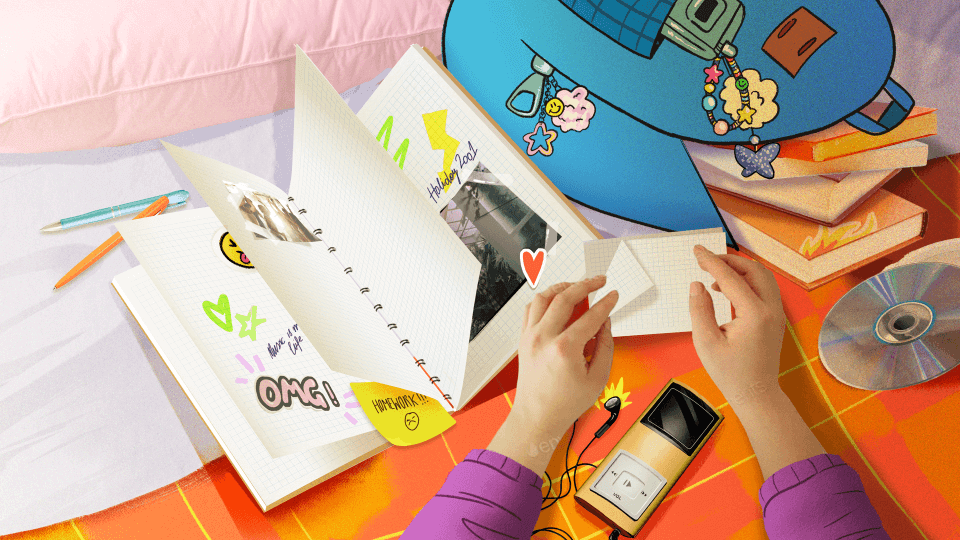 #3 Brainstorming and Script Writing
Determining your piece's central theme and crafting a compelling script around it should be your focus after you finalize the research phase and define the project's scope.
Writing an animation script is not like writing a regular blog post, there are some key things you need to keep in mind:
Brevity is your greatest ally: usually, animations are short. If you're creating an ad, it is often less than 30 seconds. You don't have time for fancy language or cute turns of phrases. Brevity is crucial when scripting animations.
Clarity is paramount: Whether you're trying to build your brand, want potential clients to use your service, or trying to entice consumers to buy your product, a clear script helps. A viewer needs to know what your brand, service, or product is about, and what are your USPs. Convoluted messaging is a recipe for disaster.
No need to be stiff and formal: You need a consistent tone between your animation and your script. Your animation can't be cute and quirky if your script is serious or formal, and vice versa. The mismatch will put off potential clients.
The importance of this phase cannot be emphasized enough. The script will serve as the backbone of the next stages of the animation process, and a weak, poorly thought out, and directionless script will never result in a great animated video.
#4 Voiceover Recording
Once you've come up with an awesome narrative with a powerful message, it is time to pay attention to the voiceover.
Most animated films are made with voiceover - whether this is in the form of dialogues between characters or narration, voiceover is a key aspect of delivering your message through animated works.
The intonation, the style, and the tone of the voiceover are all important here. They need to match and complement the script. A mismatch between the tone of the voiceover and the tone of the script can dull the animation's effectiveness substantially, especially for marketing purposes.
#5 Storyboarding
A storyboard is a document that breaks down your animation scene by scene. Storyboards computer software has been far more widely deployed to create storyboards. These sketches help you visualize the script, the scenes, and the flow of the animation.
A detailed Storyboard is considered a necessary part of the animation production process for a few reasons:
It is the best way to visualize an animation project: animations often include multiple scenes with different characters, angles, and messages. The key to a successful animated video is how you bring together all these elements. A storyboard can help give you that top-level holistic view of the project.
It helps you see what works and what doesn't: by visualizing the script and rendering it in picture form, your team will be able to see what works and what doesn't. Maybe a scene doesn't flow well, maybe a transition is clumsy: these are the mistakes you're going to capture thanks to a storyboard, and they're going to make the animation process smoother.
It helps you save time and money:: These all help your team save time and money during the animation process.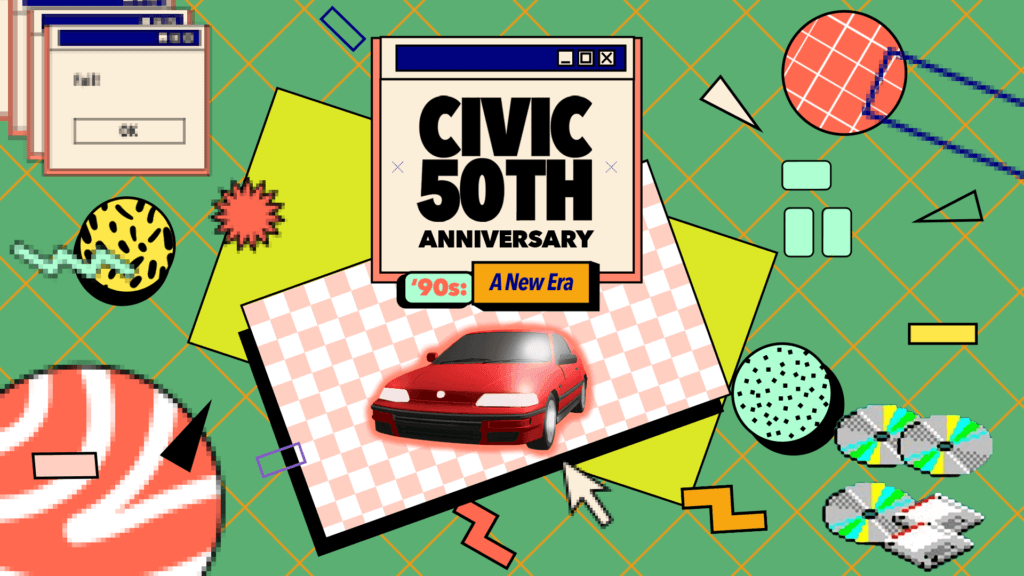 #6 Illustration
Illustration is the stage where you put the research, the script, and the storyboard to work creating illustrations and bringing them to life. By making use of motion graphics software, animation tools, and skilled artists, an animation team can create something truly special!
During this stage, style frames will be really useful. Style frames are simple, visual representations that aim to capture what a scene or a prop in the final animation will look like. Typically, several style frames are experimented with and presented to all stakeholders. The art direction that best matches the tone of the script, communicates the purpose of the animated video, and appeals to the target audience should be chosen.
#7 Animation
The whole animation process culminates in this step: it is finally time to animate and bring your project to life. The animation process is highly technical and dependent on the tools, programs, and processes you use. Still, some basic things are crucial to get right if you want animated videos to come out correctly:
Natural movements: Movements are a key part of animated video. They give the animation life. Getting character and object movements right will decide whether the animated videos you create are going to be high-quality or not. Janky movements can completely kill an animation's appeal.
Seamless transitions: Correctly and seamlessly transitioning from one scene to another is the glue that binds animated videos together. There are many tricks and techniques you can employ here, but what's important is the transitions help make the animation video whole.
Lighting: lighting is a cornerstone of the animation process. Lighting will influence the mood of the animation, which objects are in focus, which things are out of focus, and much more. Large animation studios have lighting artists. While they're likely not necessary for commercial animated ads, this just shows how important it is to get them right.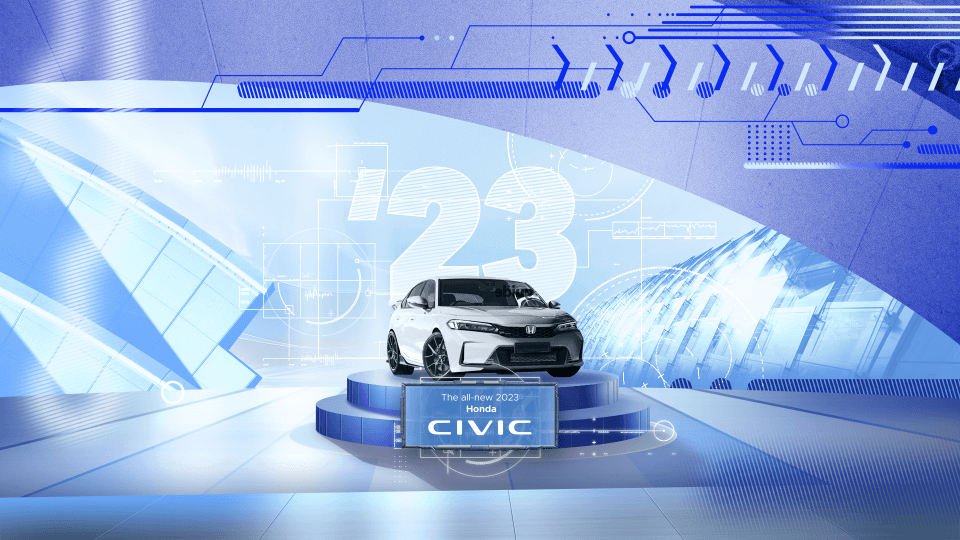 #8 Sound Design
You need to decide which piece of music to include and which sound effects to use while taking into account the tone, script, and flow of the animation. If you are entirely new to this, there are some great platforms where you can find royalty-free sound effects and music. And while they aren't suitable for high-end productions, they more than suffice for everything else.
Whatever you end up deciding on, you need to keep one key fact in mind: If you wish to hit the right chord with the viewer, the sound design and the music need to be top-notch. They can arguably be just as important as animation, and that's why they are part of the animation process.
Animation Production Process FAQ
How Many Steps are in Animation Creation?
Depending on the complexity of the project, the preferences of the animation studio, and the size of the team, the animation process can include anywhere from four steps to a dozen. At a minimum, you need to outline the project, create a script, choose an art style, and draw illustrations and animations. These four steps form the backbone of the animation process, but mood boarding, style framing, storyboarding, sound design, voiceover recording, and music all form key aspects of the process as well.
What are the 8 Stages of the Animation Process?
There are 8 key stages of the animation process steps that you need to pay attention to:
Researching.
Defining the project's scope.
Writing the script.
Voice recording.
Storyboarding.
Illustration
Animation.
Sound design.
If you want to learn more about these steps in-depth, you should check out our blog post.
What's Important in the Process of Animation Creation?
What's most important in the animation process is having a holistic outlook of the entire project. No matter how many animation stages there are, no matter how different the opinions of stakeholders are, and no matter how many people work on the animation, in the end, it needs to be a single whole that flows seamlessly, and clearly presents its message, and grabs the attention of the viewer. Without this, the animation video won't have an identity.
About the author
Gosia Kucharska
Client Relation Director
Enter your email address:
Read more articles
The Animation Process - Step by Step Guide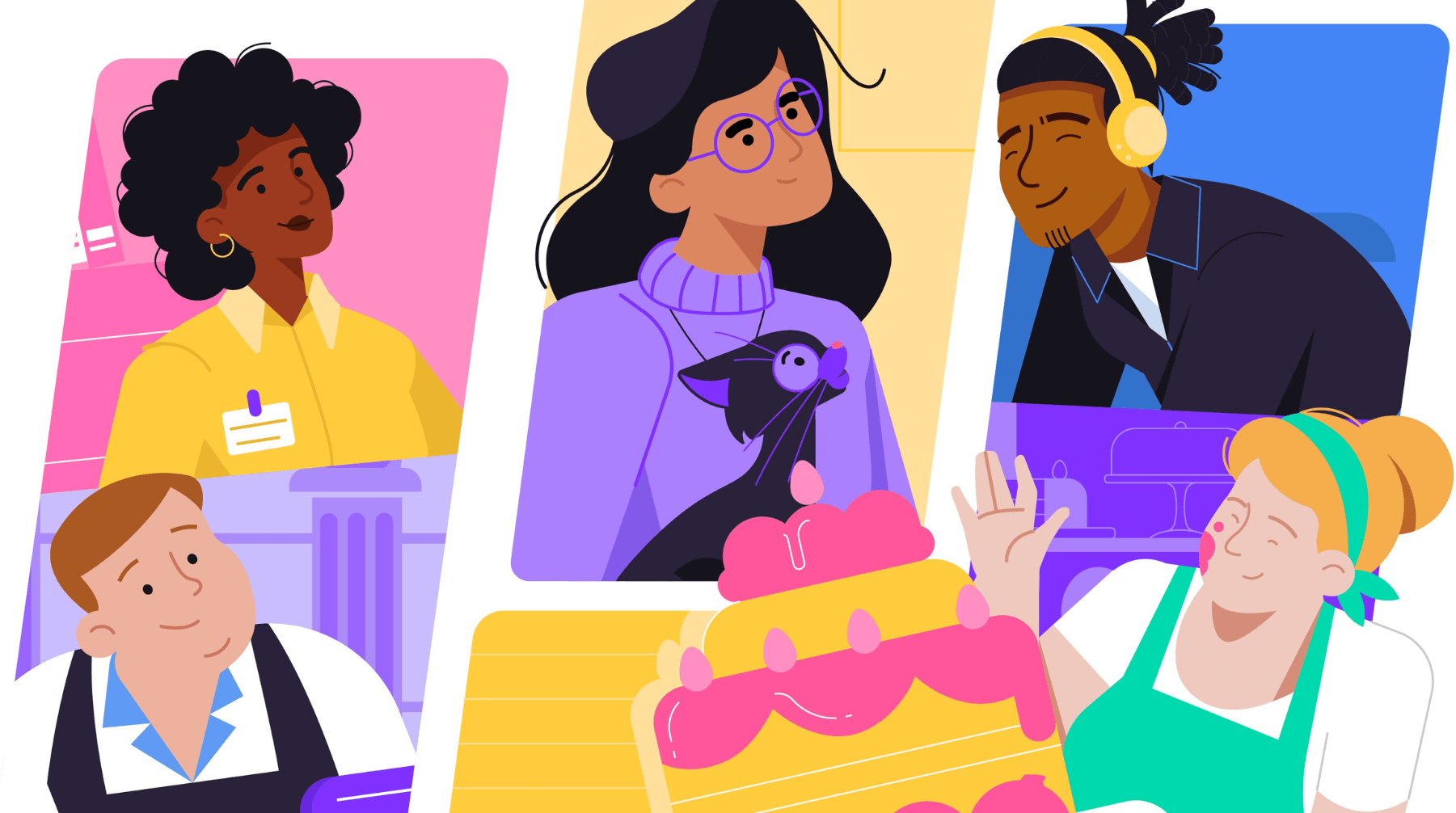 Best Animation Software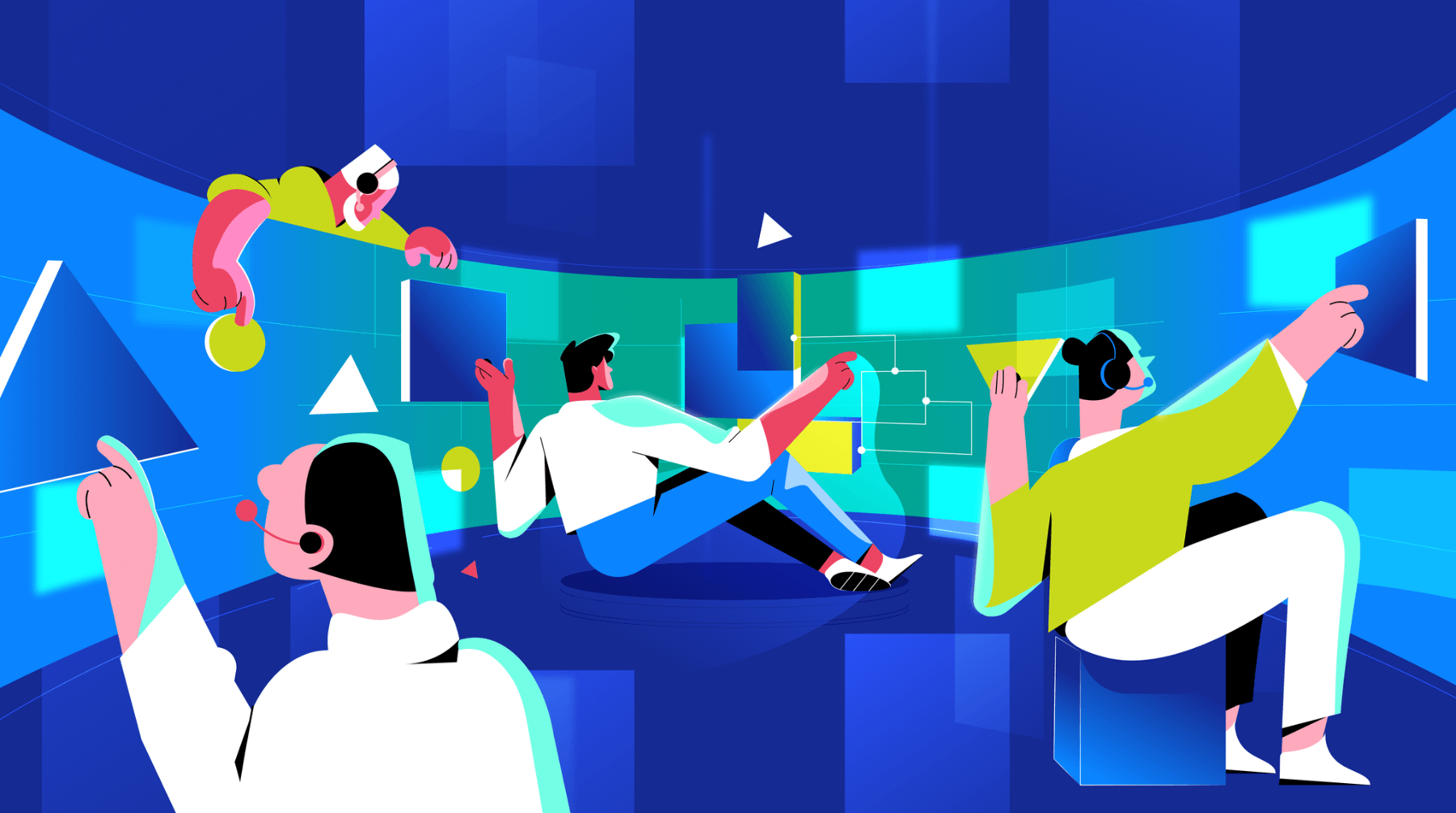 How Long Does It Take To Produce an Animation?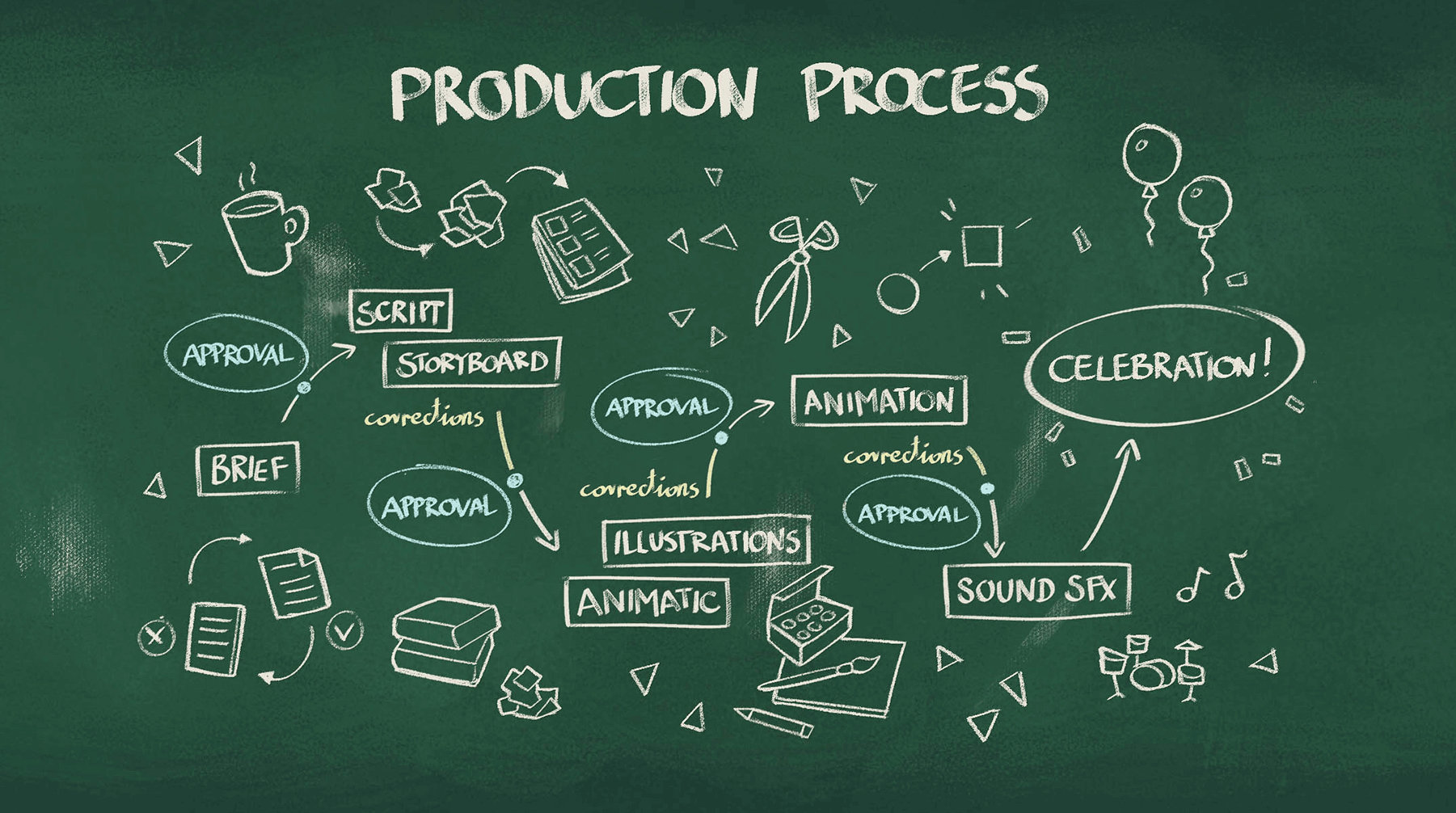 Why a Storyboard is Essential in Developing an Animated Video?