Back
Free e-book: Learn how to boost B2B strategy with animated videos
Marketing tips
Martyna Bobrowska
20.06.2023
Did you know that the vast majority of B2B buyers (95%) consider video content to be a crucial factor in their decision to purchase? Yes, B2B buyers have shown a preference for video content overwritten formats in every stage of the decision-making process!
We are proud to introduce our brand-new guide: Don't Get Left Behind. How Animated Video Marketing Can Boost Your B2B Strategy. Our comprehensive e-book is based on deep research and years of experience that we have accrued over the years. That's a treasure trove of video marketing knowledge!
Only now you can get it FOR FREE.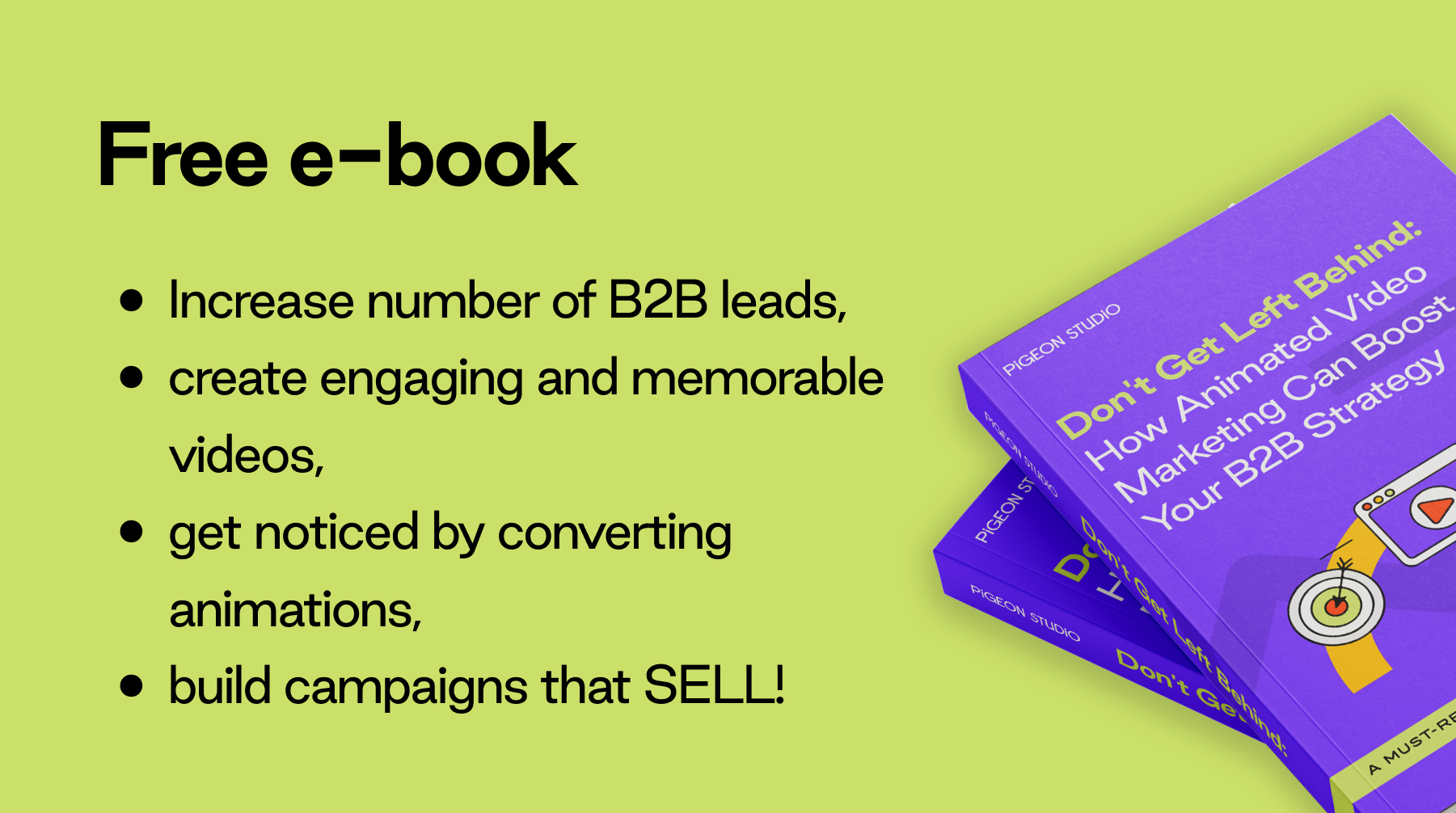 Key Takeaways
A comprehensive step-by-step animation production guide – gain insider knowledge on how to talk with production studios, invest well, and create stunning animations that get results.
How to decide on the type of video content to use – let us guide you in choosing the perfect video content for your business so you can invest your money wisely and avoid costly mistakes.
NEW! TOP 3 converting like crazy trends in animations for 2023 – stay ahead of the curve with the best B2B animations and see how top brands are leveraging animation to capture their audience's attention
Why B2B companies must embrace the power of video in today's market — uncover the incredible advantages waiting for you through the power of video marketing.
How to deal with the most common challenges of video marketing – proven methods to overcome threats, helping you kick-start your video marketing success.
Build a converting marketing campaign with animation – 5 key steps to building a winning marketing campaign that performs excellently.
If you are frustrated with lackluster outcomes despite your best efforts, or you have just started your journey with video marketing, this guide is a must-have for you.
Stop wasting your budget on boring videos and start making impactful campaigns that bring leads.
Don't expect magic to do everything for you. Start doing magic by yourself. From NOW.
Do you have some questions about the e-book? Need a quote or an estimate? Want to meet? Click here and contact us!
Marketing Specialist in Pigeon Studio - animation production company
Enter your email address:
Read more articles
Free e-book: Learn how to boost B2B strategy with animated videos